AXEB develope biostimulants, plant nutrition and specialized fertilizers. In addition, we research in differents projects to develop new technologies to achieve sustainable, competitive and high quality agriculture for a better world.
From 25-28 April of 2016 the business leaders in food and drinks industry gathered in Barcelona to debate on the latest trends and innovations in the sector.
Alimentaria 2016 showcased 3.800 exhibitors and attracted 140.000 visitors. The SME Instrument was also present with 13 SMEs funded by the programme for their incredible innovations in the field of sustainable and competitive agriculture, forestry, agri-food and bio-based sectors.
AXEB Biotech PetLife project entitled 'Introduction of a range of L-cysteine derivatives as nutritional additives in pet foods, to reduce the obesity and lengthen animal life' was one of the selected to be shown in this event.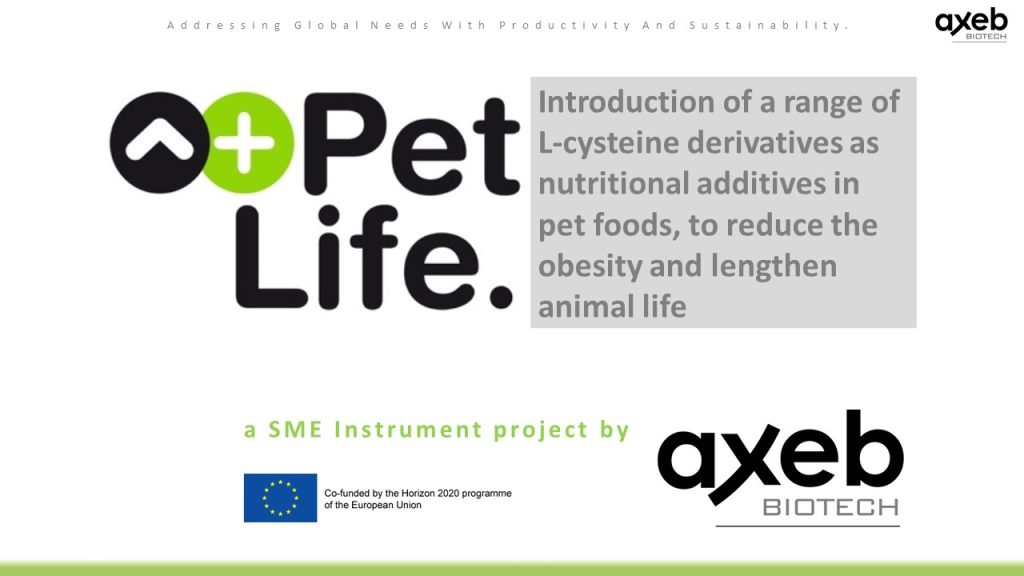 Provided with about € 3 billion in funding over the period 2014-2020, the SME Instrument helps high-potential SMEs to develop groundbreaking innovative ideas for products, services or processes that are ready to face global market competition. The main goal of PetLife project is to enter the market of pet feed with three L-cysteine derivatives that have the potential of improving pet health and lengthening pet lifespan. This novel opportunity is derived from our L-cysteine derivatives used in plant nutrition products.
Latent cysteine is released into the plant gradually, providing several health benefits in plants that can be extended to pets as well. AXEB Biotech is set to be the first in Europe and globally to validate and introduce L-cysteine derivatives as nutritional additives for pets in order to solve the problem of providing L-cysteine without causing nutritional imbalances and weight gain.
If you want to know all the projects that AXEB is doing nowadays, as well as the ones it has done previously, visit the following link to our R&D trajectory.