AXEB, in addition to innovate and develope biostimulants, plant nutrition and specialized fertilizers, research in differents projects to develop new technologies to achieve sustainable, competitive and high quality agriculture for a better world. We participated in the project MyToolBox.
The MyToolBox project will develop, test and validate an entire toolkit including resistant plant resources, management tools and technologies to effectively monitor and reduce the incidence of mycotoxin contaminants in crop production as well as in the food and feed supply chains.
Globally every year there are several billion Euro losses to cereals and other crops through fungal infection, which also causes harm to human health from toxins (mycotoxins) produced by these moulds. In a new initiative that is being funded by the European Union's Horizon 2020 Programme, a group of scientists, engineers and IT specialists have teamed up to provide knowledge transfer to farmers and other decision makers in the food and feed chains.
Using smart technology available on phones and tablets, decision-making tools will be made available to the agricultural and food communities to guide them in taking the most cost-effective actions to minimise fungal infection and mycotoxin formation.  Advice will be given in real-time and customised to the individual situation taking into account numerous factors including climatic conditions as a means of forecasting potential fungal infection.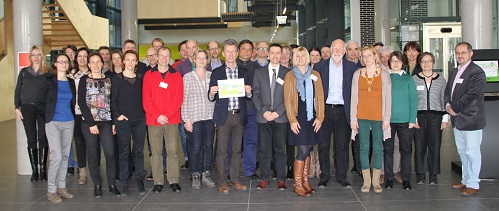 MyToolBox mobilises a multi-actor and multi-disciplinary partnership throughout the food and feed chain. Of the 23 partners from 11 countries including China, there is a strong industry presence reflecting the practical significance of this project. At the kick-off meeting held in on March 8th and 9th in Vienna representatives from the European Commission, FAO, EFSA and food and feed industry groups were present as Advisors, indicating the importance attached to the success of MyToolBox.
For furher details about the project MyToolBox, its objectives, workplans and partners, check the following link www.mytoolbox.eu